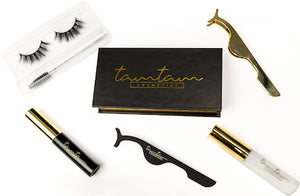 Tam Lash'd It
The Run Down
3D mink lightweight false lashes, lash applicator and our adhesive glue.
Hold on There's More
Enhance your look with tam Lash'd It false lashes and glue kit. Our luxurious 3D Mink lashes add volume and length blends perfectly with your natural lash and are available in six styles to fit your personality or mood, ranging from natural to dramatic. tamtam lashes are lightweight flexible bands offering a natural look, easy to apply and reusable with proper care. Each kit comes with a pair of lashes, lash adhesive and applicator. 
tamtam Cosmetics is 100% cruelty free.